This Sunday the sermon was on music. You may not like sermons, but you probably like music. In order to prepare, the speaker, Brady Wolcott, had discussed music with, (who else but?) the Music Minister. From what I heard it was a discussion I would have gladly sat in on. Here is a quote from their discussion:
Music can express truths about God that words alone cannot express. ~ Matt Sikes
A homily on spirituality and music could only bring to my mind, and hand, other modalities that also work to speak for us when words fail. Art, as well, can express things that words cannot.
I found I could say things with color and shapes that I couldn't say any other way - things I had no words for. ~ Georgia O'Keefe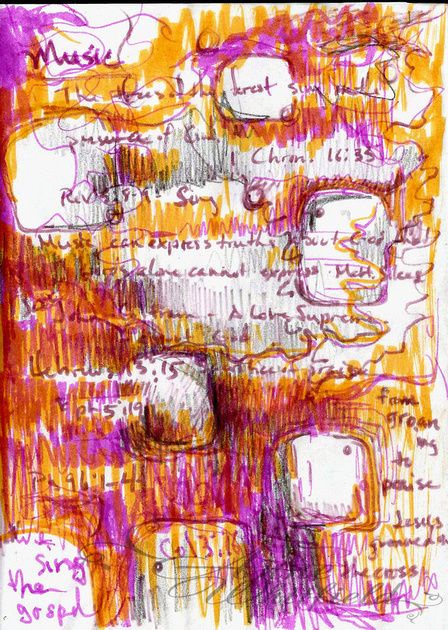 I am not very good at sitting still so as I take in information my hands are usually busy listening. Yes, my ears take in the sounds waves. I have taught enough science classes to understand the mechanics, but for me, listening is easier with a pencil in hand. Sometimes I take real notes. Sometimes I only draw. Sometimes it's a combination. For many years I took proper notes. Then I started taking notes the way it worked for me, but I cautiously hid what I was doing. (By the way keeping your notebook hidden from all the people around you is a very good exercise in Blind Contour drawing.)
Then I entered my fifties.
(But that's a subject for a different blog.)
So, because I so enjoyed the thoughtfulness and stretching of Sunday's sermon, I am posting a glimpse of my notes from that sermon. You do not have to agree with how I interpret what I hear. You don' t have to like these pages, but maybe you can take the time to consider that awesome benefits can come from expressing yourself through words, music, and pictures, and that those modalities can be used to bring us closer together in a fractured society.
Here is a quote to contemplate, but not just art: art, music, ... and prayer.
Art is our one true global language. It knows no nation, it favors no race, and it acknowledges no class. It speaks to our need to reveal, heal, and transform. It transcends our ordinary lives and lets us imagine what is possible. - Richard Kamler, artist